eFishery Signs Strategic Partnership with Kargo Tech, Using Kargo's Transportation Management System to digitize end-to-end Aquatech Logistics Processes
08/09/2021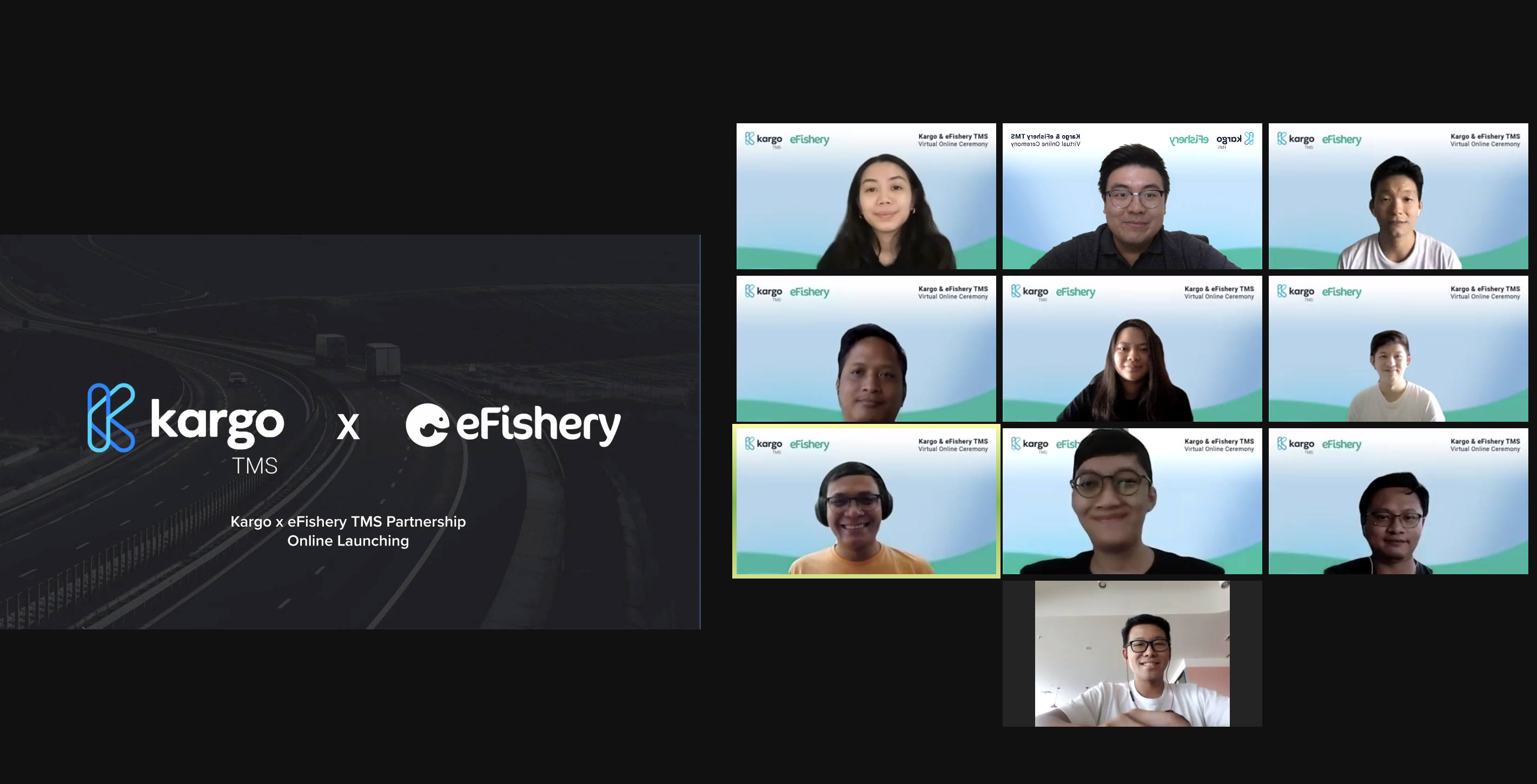 JAKARTA, INDONESIA – Starting in September 2021, Indonesia-based freight logistics marketplace and digital logistics software provider Kargo Technologies (Kargo) announced strategic partnership with eFishery, enabling eFishery to digitize their end-to-end logistics processes with Kargo transportation management system (KargoTMS).
"One of the biggest problems in the aquaculture sector is logistics. Most of the harvested fish are shipped live, resulting in inefficient logistics costs and high post-harvest losses. Farmers incur losses as this high logistics cost will force the price to be lower at the farmer level. With the spirit of improving farmers' welfare through technology, we are working with Kargo to provide technology that is not only ensuring on-time delivery but also maintaining product quality," explained Gibran Huzaifah, co-founder and CEO of eFishery.
Founded in 2013, eFishery has become one of the pioneering startups that develop the internet of things-based products. Currently, eFishery products have supported thousands of farmers in over 250 cities across Indonesia. Last year, they secured an undisclosed amount of Series B investment, led by Northstar Group and Go-Ventures.
Yudhistira Arya Syahputra, Head of Operations at eFishery, thinks that the partnership with Kargo will not only help eFishery streamline their logistics processes, but also unlock hidden operational inefficiencies through real-time data and ground operations support.
"Kargo TMS solutions allow us to analyze and pinpoint accuracy for delivery time requested per customers' area based on preferred timelines, which helps us implement lean supply chain and logistics end-to-end processes. Both eFishery and its vendors could view all the trucks movements in a single screen, so we can increase responsiveness whenever there are any delays or service disruptions happening on the ground, notified with KargoTMS intelligent shipment alerts," he said.
Delivering Comprehensive Logistics and Transportation Solutions for eFishery
Covering valuable operations chain from upstream fish and shrimp farming to downstream distribution processes within Indonesia, eFishery sees strategic partnership with Kargo Technologies, as Kargo has not only the premier operating system for logistics in Indonesia through its KargoTMS, but also trucking fulfilment and vendor financing capabilities on the ground with its access to 4,000+ transporters and 50,000+ trucks across the nation. Through its trucking fulfilment subsidiary, Panthera Biru Indonesia, Kargo Technologies has continuously served eFisheryFresh business line deliveries in Indonesia.
Brian Aditya Tedjasaputra, Head of Enterprise Solutions at Kargo said "KargoTMS is designed to unlock logistics and transportation related efficiencies from upstream product planning all the way to shipment delivery through KargoTMS Private Marketplace, Order Management, Shipment Monitoring, ePOD documents, and Invoicing modules."
Ideal Momentum to Unleash Synergy Across Industries
Tiger Fang, Kargo's CEO and co-founder, comes with stellar entrepreneurial and management experience in companies like Uber, Lazada, and Bank of America – Merrill Lynch. Fang has a bold vision of helping Indonesia digitize the logistics process through technology and local approaches.
"Kargo sits in the intersection between Logistics and Technology, with the vision to build the digital infrastructure for logistics in Indonesia. This helps enable Kargo's partners across industries to bring offline supply chains, online. We are excited about the KargoTMS partnership with eFishery, as both companies look to activating vertical synergies, unlock hidden inefficiencies, and reduce cost across the value chain through digitalization"
Fang and Huzaifah have a laser-focused approach through this collaboration to help scale local businesses and vendors through the digital process, reaching Indonesia 4.0, two steps at once.
Start Digitizing Your Supply Chain Today!
If you would like to take advantage of our full stack solutions for your entire fulfillment operations or to provide feedback, please email us at [email protected].
Not a current Kargo platform user and interested for a demo? Get started today.
About Kargo
Kargo Technologies (Kargo) is a venture-backed freight logistics SaaS for enterprises. It is powered by a marketplace of freight vendors that spans the entire Indonesian archipelago. The company aims to revolutionize the country's freight logistics industry by implementing technology that drives efficiency, transparency, and accountability. Kargo comes with a bold mission of bringing all logistics transactions online in Indonesia.